EWP Over 11m Ticket and Training
GL Training has been delivering quality training to the Gold Coast and Northern Rivers communities since 2014. Our innovative approach to training has led us to offer different course structures, by breaking down old barriers of traditional training methods allowing us to develop a training plan for your individual experience level and learning ability.
Our EWP program is designed to test your skills up high as well as on the ground through our obstacle course. You will be given access to our Genie Z-40 knuckle boom and be tested in a range of different configurations so you are ready for the real world.
 GL Training is a proud recipient of Construction Skills Queensland (CSQ) funding. To check your eligibility please call us on (07) 5576 5733.
 
Our 3 day job ready program is designed to increase your confidence and skills, this steady paced course is perfect for those who are just starting out in the industry or changing careers.
Course Details 3 day Job Ready Program
TLILIC0005 Licence to operate EWP (boom length 11m or more)
Duration – 2 full days of training, 1 day assessment
Price – $550
Mixture of theory and practical training
Trainers aid available for students requiring additional support
Real world training scenarios to assist you in becoming job ready
Additional services
If you are unsure of which option is best suited to you or if you have additional requirements, please give our staff a call and we can work out a solution for you – (07) 5576 5733
High Risk Work Licence requirements
18 years of age or older
Read and write English and complete math's to a basic level
3 forms of Identity as per State Regulator requirements  – Click here for details
Licence fee of $96.80 payable to WHSQ – application must be made within 60 days upon successful completion
Must be renewed within 365 days of expiry or course must be completed again
GL Training requirements
Must have a valid USI Number – Click here to find your USI
Must have enclosed footwear
Must have High Vis vest and Hard Hat
Must arrive and be ready for course to start at 07:00am
What is covered in this course?
Relevant Australian Standards, Legislation and Regulations
Designs and functions of EWP equipment
Signaling methods and communications
Hazard identification and hazard prevention
JSA's / Safe Work Methods Statements
Set up, Operate and shut down EWP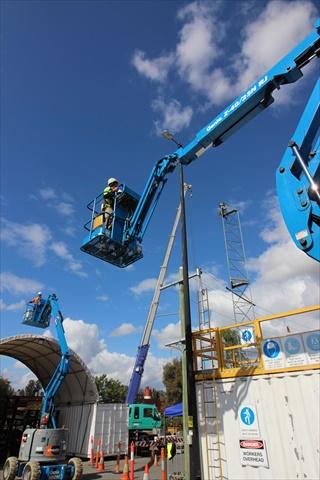 Licence to operate EWP over 11m - 3 Day Job Ready Program
Name
Date
Time
Location
Available Spaces
Cost
Non-funded
Licence to operate EWP over 11m - 3 Day Job Ready Program
3 - 5 October 2023
07:00 am –
02:30 pm
8 Ryecroft street Carrara
1
$550.00

Licence to operate EWP over 11m - 3 Day Job Ready Program
10 - 12 October 2023
07:00 am –
02:30 pm
8 Ryecroft street Carrara
1
$550.00

Licence to operate EWP over 11m - 3 Day Job Ready Program
25 - 27 October 2023
07:00 am –
02:30 pm
8 Ryecroft street Carrara
6
$550.00