RIIWHS204E Working Safely at Heights
GL Training has been delivering quality training to the Gold Coast and Northern Rivers communities since 2014. Our innovative approach to training has led us to offer different course structures, by breaking down old barriers of traditional training methods allowing us to develop a training plan for your individual experience level and learning ability.
Our working at heights program uses our purpose built heights structure which includes a roof access walkway, twin tail tower climb, temporary static lines and travel restraint devices.
The training is delivered by industry experts with experience in the following industries: Telecommunication Rigging, Mining, Lifting and Rigging Industry, Commercial Roofing, Australian Defence Force and Industrial Rope Access. 
Our experienced staff love providing height safety solutions to a wide range of industries.
GL Training is a proud recipient of Construction Skills Queensland (CSQ) funding. To check your eligibility please call us on (07) 5576 5733.
1/2 Day Experienced Operators Course – 

designed for students who have had previous experience with working safely at heights and may hold a ticket that is over 2 years old. This course will test your practical skills with a focus on advanced operations and current legislation. This can be conducted on the same day as;
1 Day Job Ready Program –

 

designed to increase your confidence and skills, this steady paced course is perfect for those who are just starting out in the industry or changing careers. Practical activities can be modified to suit all fitness and ability levels as your safety is our priority.

 
Course Details 1/2 Day Experienced Operators Course
RIIWHS204E – Work safely at heights
Duration – 3-4 hours
Price – $180
Competency based assessment (minimising impact on work commitments)
Pre course reading and online assessment that must be completed using our student portal and submitted prior to the course start date
Advanced operational techniques
Theory refresher on current legislation
Course Details 1 day Job Ready Program
RIIWHS204E – Work safely at heights
Duration – 1 full day of training 
Price – $200
Mixture of theory and practical training
Trainers aid available for students requiring additional support
Real world training scenarios to assist you in becoming job ready
Additional services
If you are unsure of which option is best suited to you or if you have additional requirements, please give our staff a call and we can work out a solution for you – (07) 5576 5733
GL Training requirements
Must have a valid USI Number –

 

Click here to find your USI
Must have enclosed footwear
Must have High Vis vest and hard hat
Must arrive and be ready for course to start at 07:00am
Must be 15 years or older and have basic English reading and writing skills
What is covered in this course?
Access, interpret and apply height safety procedures and ensure the work activity is compliant
Inspect site to determine layout and physical condition, condition of structures, prevailing weather conditions, equipment requirements and potential hazards
Select and install appropriate signs and barricades
Adhere to WHS requirements
Identify, select and check safety equipment for serviceability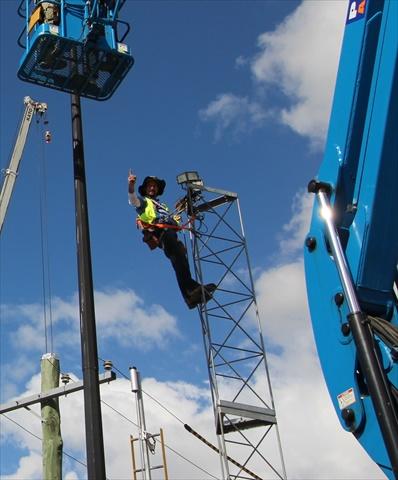 Work Safely at Heights - Job Ready Program
| | | | | | | |
| --- | --- | --- | --- | --- | --- | --- |
| Name | Date | Time | Location | Available Spaces | Cost | |
| Work Safely at Heights - Job Ready Program | 14 June 2021 | 07:00 am - 02:30 pm | 8 Ryecroft street Carrara | 2 | $175.00 | |
| Work Safely at Heights - Job Ready Program | 18 June 2021 | 07:00 am - 02:30 pm | 8 Ryecroft street Carrara | 9 | $200.00 | |
| Work Safely at Heights - Job Ready Program | 21 June 2021 | 07:00 am - 02:30 pm | 8 Ryecroft street Carrara | 9 | $200.00 | |
| Work Safely at Heights - Job Ready Program | 25 June 2021 | 07:00 am - 02:30 pm | 8 Ryecroft street Carrara | 10 | $200.00 | |
| Work Safely at Heights - Job Ready Program | 2 July 2021 | 07:00 am - 02:30 pm | 8 Ryecroft street Carrara | 9 | $200.00 | |
| Work Safely at Heights - Job Ready Program | 9 July 2021 | 07:00 am - 02:30 pm | 8 Ryecroft street Carrara | 10 | $200.00 | |
| Work Safely at Heights - Job Ready Program | 12 July 2021 | 07:00 am - 02:30 pm | 8 Ryecroft Street Carrara | 5 | $200.00 | |
| Work Safely at Heights - Job Ready Program | 16 July 2021 | 07:00 am - 02:30 pm | 8 Ryecroft Street Carrara | 5 | $200.00 | |
| Work Safely at Heights - Job Ready Program | 19 July 2021 | 07:00 am - 02:30 pm | 8 Ryecroft street Carrara | 8 | $200.00 | |
| Work Safely at Heights - Job Ready Program | 23 July 2021 | 07:00 am - 02:30 pm | 8 Ryecroft Street Carrara | 8 | $200.00 | |
| Work Safely at Heights - Job Ready Program | 26 July 2021 | 07:00 am - 02:30 pm | 8 Ryecroft Street Carrara | 8 | $200.00 | |
| Work Safely at Heights - Job Ready Program | 30 July 2021 | 07:00 am - 02:30 pm | 8 Ryecroft Street Carrara | 7 | $200.00 | |
Work Safely at Heights - 1/2 Day Experienced Operators Course
| | | | | | | |
| --- | --- | --- | --- | --- | --- | --- |
| Name | Date | Time | Location | Available Spaces | Cost | |
Working At Heights Course & Ticket